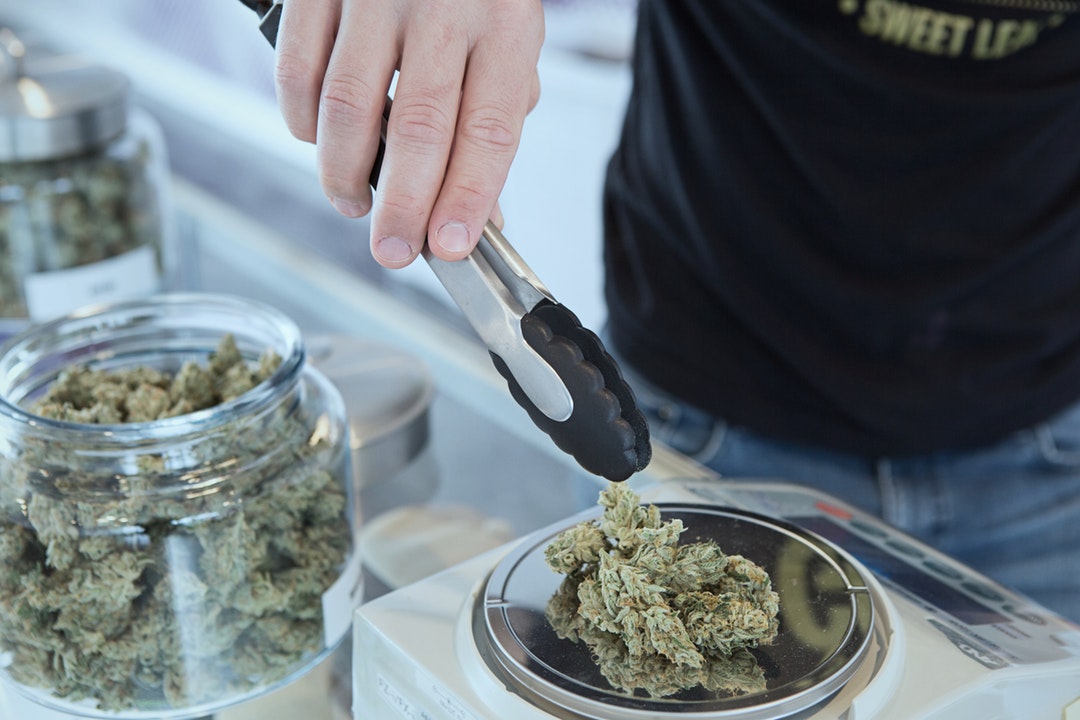 First Time At A Weed Dispensary? Here's How To Handle It
Currently, 21 states, as well as Washington, D.C., have legalized recreational marijuana use for adults 21 years and older. In addition, 37 states have established medical marijuana programs. 
While this is major progress, weed is still prohibited on a federal level. This means that you can't go to your local pharmacy to get it. Instead, you'll need to go to a designated establishment called a weed dispensary. 
If you've never been to a dispensary before, the process can be a little overwhelming. Today, we're sharing everything that first-timers need to know to make the most of their experience. 
What Is a Weed Dispensary?
Before we dive into how to navigate one, let's back things up a little. What is a weed dispensary in the first place?
Put simply, this is a certified cannabis shop.
Here, authorized owners are allowed to sell and distribute marijuana for recreational or medicinal purposes. If you're searching online for "weed dispensary near me", remember to add your state in the query. Each state will have its own regulations for approving and opening cannabis dispensaries. 
1. Bring the Right Information
Cannabis rules vary from state to state. They are also different depending on whether the state allows medical or recreational marijuana use.  
If you're visiting a medical cannabis dispensary, make sure to bring the following:
Your medical marijuana card
A valid state-issued photo ID
Before you go, remember that most medical marijuana cards are only valid in the state where they were issued. This means you can't use your New York card in Maine, or vice versa. 
If you're visiting an adult-use dispensary in a state that allows recreational marijuana use, you don't need a medical marijuana card. However, you will need to bring a valid, state-issued or government-issued photo ID with you.
The dispensary will your ID to verify your age and state residency. In adult-use-only states, you have to be at least 21 years old to enter a dispensary. In some states that allow medical marijuana, patients and their caregivers can enter as long as they're at least 18 years old.
In addition to age limits, it's also smart to research the rules that relate to your local dispensary before you go. For instance, each state will have its own rules on how much marijuana both residents and out-of-state visitors can purchase. If you know what to expect before you arrive, you can avoid last-minute setbacks once you're ready to shop. 
2. Take Cash
It's also smart to take cash with you on your visit to a weed dispensary. Many shops require buyers to purchase their wares with cash, and could even refuse to serve you if you insist on using a credit card. While some do accept debit cards, check before you go. 
To make transactions easier, many cash-only dispensaries will have ATM machines on their premises. However, this isn't guaranteed, so we recommend bringing your own cash to make things easier. 
3. Consider Your Preferences
When you first walk into a legal cannabis dispensary, the sheer number of products might astonish you. There are lots of different strains and varieties, and each one delivers a different experience. 
Trying to figure out what you want as you walk around can be a challenge. There should be knowledgeable budtenders or pharmacists around who can help you navigate the options, but it helps to come prepared. 
As you plan for your visit, ask yourself the following questions.
Why Am I Visiting This Dispensary?
Start by determining why you are interested in cannabis in the first place. The answer will be different for everyone, and it will hinge on whether you're looking for medical or recreational marijuana. 
If you're a medical marijuana customer and cardholder, you're likely looking for a product that can help relieve pain or alleviate the symptoms you're experiencing. In some states, your practitioner may limit the type of products that you can purchase based on your medical condition. 
If you're a recreational marijuana customer, the intoxicating properties of THC might intrigue you. Or, you may be interested in trying different strains to discover their unique effects on your body. If this is the case, ask the budtender to walk you through some of the most popular selections. 
Ask about the taste, smell, and effects of each strain that piques your interest. You can also ask questions about how the aftermath will feel. Remember: These experts are here to guide you on your cannabis journey so let them help you!
What Do I Want to Feel or Experience?
Each type of cannabis will deliver a slightly different experience. Before you shop, think about what you want to feel during and after taking it. 
If you're curious about experimenting with the different components of cannabis, including the various cannabinoids and terpenes, then look into marijuana flower, which gives you a more tactile, hands-on approach. 
If you want routine realization that can help you manage the day's stressors, a convenient product such as a concentrate, edible, or tincture may be ideal. For a more mellow high, stick with a weed strain that contains less than 5% THC. 
Those who want to experience the psychoactive qualities of THC may prefer a disposable THC vape! 
There isn't a right or wrong answer to this question. Your intent is personal to you, but it's still critical to consider it before you start perusing the aisles. 
When Do I Want to Consume Cannabis?
You might not think too much about when you plan to consume your purchases, but it's important to consider the time of day you plan to experience them. For instance, if you want to take it early and still remain alert and functional throughout the day, ask your budtender for a product that won't make you too drowsy.
Ask if the products you're eyeing will make you sleepy, and which ones are best suited for concentration and focus. 
On the other hand, if you plan to incorporate cannabis into your wind-down routine, look for a product with gentle sedative properties that can help you drift into dreamland. It's important to choose products that meet your needs and fit your lifestyle. While this isn't always the case, Sativa strains tend to be better for daytime consumption, while Indica is often used at night. 
How Do I Want to Consume Cannabis?
It's also important to think about how you prefer to consume cannabis once you purchase it. If there are certain methods that you're more comfortable with than others, you can share that with the budtender. This helps eliminate entire sections of the shop and makes it easier to browse. 
Here are the most common options:
Smoking or vaping
Ingesting orally
Taking a tincture
If you prefer to smoke or vape your cannabis, look for marijuana flower. There are also different types of marijuana concentrates you can buy, including:
Distillate oil
Shatter
Budder
Crumble
Sugar
Sauce
Wax
These concentrates are highly-potent, concentrated selections of cannabis resins, which includes cannabinoids and terpenes. They usually contain high amounts of both THC and CBD. 
If you'd like to ingest cannabis rather than smoke or vape it, look into edibles. There are also cannabis beverages available! For those who don't prefer any of those routes, an oral tincture may be the best bet.
This is a solution that you can place under your tongue (sublingual) or against your cheek (buccal). It enters your bloodstream. and takes effect quickly because it bypasses your digestive system. 
4. Talk to the Budtender
Even with your answers neatly prepared, you may still have a ton of questions when you walk into the dispensary. That's OK! The budtenders have seen it all, and they are there to help you, not judge you. 
As you walk around, feel free to ask them any questions you can think of! You might wonder: 
How will I know when I'm high?
How much cannabis should I consume in one session?
Which strains are best for ____?
If you'd rather not go into the physical store, look to see if the dispensary near you has an online storefront. Many will offer virtual menus that you can shop. Once you pick out what you need, you can even order them online and pick them up through curbside service!
If you're new to this experience, however, it's usually best to go into the store and talk one-on-one with an expert who can help you. 
Navigate a Weed Dispensary With Ease
Now that you know a little more about how to handle your first time at a weed dispensary, are you ready to visit one? These shops can be eye-opening, informative, and beneficial resources. 
No matter what specific type of cannabis products you're thinking about buying, you're sure to find everything you need at your local dispensary. Take advantage of the experience and knowledge of your budtenders, and ask them any questions that come to mind! 
Interested in trying our high-quality cannabis oil? You can find EUREKA products at various dispensaries throughout California, Colorado, and Michigan. Plan your visit today!